Trading a life in Vegas to speak for troops in Afghanistan
Some 250 US citizens of Afghan origin have made unlikely career changes to become military interpreters.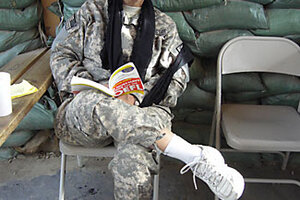 Danna Harman
Kalagush Forward Operating Base, Afghanistan
It's a long way from Vegas.
For the past three years, Torpekay (Peggy) Farhamg, a longtime security guard and dealer at the strip's Imperial Palace, has been living behind concertina wire with American troops in Afghanistan. Ahmadullah Barak, who until recently was a used-car salesman at his cousin's dealership in Jamaica Heights is here, too, daydreaming about a slice of New York thin-slice pizza.
The two are among some 250 American citizens of Afghan origin who have made unlikely career changes and become Pashto or Dari military interpreters here – working as intermediaries between foreign troops and the locals they meet, collaborate with, and fight against – and making big bucks along the way.
Most easily admit it was the generous remuneration offered by the contracting agencies – up to $225,000 a year for those with the highest security clearances, they say – that convinced them to give up comfortable lives and join a war effort in the dusty land they long ago left behind. But there is a sprinkling of idealism as well.
"If they didn't pay well, who would even consider it?" asks Mr. Barak. "But I was excited, too. I thought the Americans could do good here."
The American "terps," as they are known, are paid far more than $800 a month typi- cally given to approximately 3,000 locally hired interpreters. But they also abide by a stricter set of rules.
---