India moves to contain Satyam fraud fallout
The government has taken control, installing new board members at the outsourcing giant.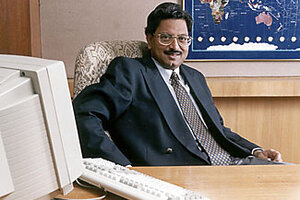 Reuters
The $1 billion fraud unearthed last week at a leading Indian outsourcing firm has spawned fears it could tarnish the image of India overseas as an outsourcing powerhouse, thus impeding business prospects.
Two days after B. Ramalinga Raju and his brother Rama Raju were taken into judicial custody for orchestrating the fraud, labeled widely as "India's Enron," the Indian government, in damage-control mode, swooped in to take control of Satyam, the beleaguered outsourcing company they cofounded. On Sunday, it appointed three leading businessmen to the board of Satyam Computer Services Ltd.
Last week, Mr. Ramalinga Raju admitted to concocting key financial results of Satyam Computer Services Ltd. "for years," while vastly overstating revenues and bank balances.
The magnitude of this fraud – the worst ever witnessed by corporate India – has sent shock waves across the country. Particularly unpalatable is the fact that Mr. Raju was no fly-by-night cash embezzler, but the chairman of India's fourth-largest outsourcing company. Satyam boasts of being the back office of more than 185 Fortune 500 companies, with a network spanning 66 countries. Many analysts fret this scam could impede the growth of the country's $40 billion outsourcing industry, long hailed as the engine of India's economic resurgence.
---