Pakistan tested by battles with Al Qaeda, Taliban
The US pursuit of Al Qaeda with airstrikes complicates Pakistan's struggle against the Taliban, who launched their largest attack in months over the weekend.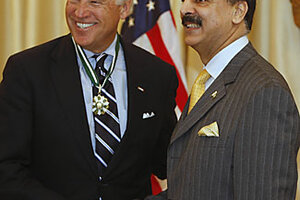 Mian Khursheed/Reuters
US military officials said over the weekend that a Jan. 1 drone aircraft strike in Pakistan's South Waziristan tribal area killed two senior Al Qaeda operatives.
But the continuing strikes inside Pakistan are doing little good in the war on terror, many observers here charge – or for a Pakistani government that is trying to sell it as "Pakistan's own war" rather than an American imposition, which is the popular perception.
Pakistan's government also maintains that such air strikes are strengthening the cause of the Taliban militancy at home.
"There are two battles going on here," says Ikram Sehgal a former major in the Pakistan Army and the publisher of the Defence Journal in Karachi. One involves the American search for Al Qaeda operatives hiding in the tribal areas, he says. The other is the Pakistan military's fight against the Taliban Movement of Pakistan that has taken root in the northwestern regions of the country.
Though the two have "linkages," they are "two separate wars," says Mr. Sehgal.
The Americans, Sehgal says, are launching drone attacks with the expectation that they will weaken Al Qaeda command structures in Pakistan. But the strikes also "are definitely making the job a lot more difficult for the Pakistanis," by giving the Taliban a rallying cry, he says.
---