India revels in acclaim for 'Slumdog Millionaire'
Some see hope for change as the film, with four Golden Globe awards and 10 Oscar nominations, spotlights the desperation of slum life.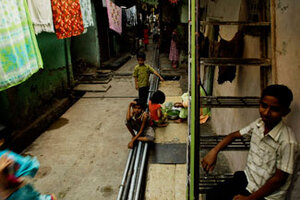 Gautam Singh/AP
MUMBAI, INDIA – John D'souza hasn't yet seen the much-feted film "Slumdog Millionaire." But he is convinced the film has the power to transform his life.
Mr. D'souza, a social worker who has lived all his life in Dharavi, a grubby slum in Mumbai (Bombay) that is touted as Asia's largest, believes that this film can highlight the invisible lives of slum dwellers and create awareness about their abominable living conditions.
"The film has put Dharavi on the world map," says D'souza, whose shanty has a cameo in the film. "Hopefully, it will help people and [the Indian] government understand that we, too, deserve a dignified existence."
Directed by the British director Danny Boyle and based on Indian diplomat Vikas Swarup's novel, "Q&A," Slumdog Millionaire has already won four Golden Globe awards and this week garnered 10 Oscar nominations, including one for best film. Set in the fetid alleyways of Mumbai's teeming slums, Slumdog is a Dickensian tale of an orphan who ingeniously cuts away from his wretched existence to become a champion on the TV game show, "Who Wants to Be a Millionaire."
Even before its Friday release in India, the film's riveting international success had sparked celebrations – and generated hopes in some quarters of its potential to impact change.
---