Pakistan tackles Swat, a key militant area
The Army launched fresh operations this week, following mounting pressure to retake the onetime tourist idyll now controlled by ultraconservative militants.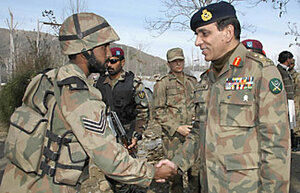 AP
The Pakistani Army's renewed effort to reclaim control of the Swat Valley – a tourist idyll taken over by ultraconservative militants allied with the Taliban – has taken on symbolic importance in the country's fight against a growing insurgency.
The Army launched fresh operations in Swat Wednesday, as Army Chief Gen. Ashfaq Kayani vowed to retake the troubled region following growing criticism over what analysts and human rights groups are calling the complete loss of government control. By the estimates of residents and local officials, up to 80 percent of Swat is now under militant control.
Unlike the northwestern Federally Administered Tribal Areas, where militants also hold sway, Swat falls in the "settled areas" of Pakistan.
The strategic significance of the Swat Valley is difficult to underplay, says Badar Alam, a senior editor for Pakistan's Herald magazine. "If it falls to the Taliban, despite not being geographically linked to Afghanistan – it will send the message they can claim victory in part of the NWFP [Northwest Frontier Province], if not the country."
---