Holbrooke begins 'listening tour'
The special representative launched his three-day visit in Pakistan Tuesday with an aim to 'listen and learn,' but also to urge the US ally to eliminate its militant havens.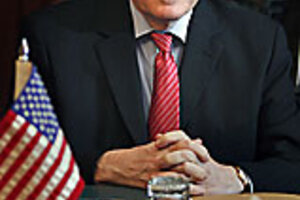 Anjum Naveed/AP
Richard Holbrooke, the veteran US diplomat tapped to help stabilize Pakistan and Afghanistan, began his tour of the region in Islamabad Tuesday. The special representative vowed to "listen and learn" as he met with leaders of the US ally, with whom relations have been strained by US concerns that it's not doing enough to stem a growing militancy that is spilling into neighboring Afghanistan and India.
On Day 1 of Mr. Holbrooke's three-day visit in Pakistan, leaders who met with him – including President Asif Ali Zardari, Foreign Minister Shah Mahmood Qureshi, and Army Chief Gen. Ashfaq Kayani – presented their own concerns over America's approach in the so-called war on terror, particularly its drone attacks in Pakistan's tribal areas bordering Afghanistan.
"I am here to listen and learn" in "this critically important country," Holbrooke said in a statement. "The United States looks forward to reviewing our policies and renewing our commitment and friendship with the people of Pakistan."
---
Follow Stories Like This
Get the Monitor stories you care about delivered to your inbox.