Security up at porous Afghan border
The US, Pakistan coordinate troops to prevent militants from fleeing to either side.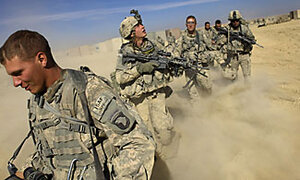 David Furst/AFP/Newscom
This week's brazen assault in Kabul underscored a major security gap for Afghanistan: its porous 1,500-mile-long border with Pakistan's tribal areas, where militants can plan attacks and take refuge.
Wednesday's insurgents sent text messages to contacts in Pakistan before launching an attack on three government offices that left 28 people dead, Afghanistan's intelligence chief told reporters. Previous high-profile attacks in the capital have also been blamed on militants based in Pakistan.
In recent months, however, the US and Pakistani militaries have begun cooperating to try to secure the border by sharing intelligence and coordinating offensives on either side of it.
"We've gone from almost a stalemate situation in the mountains to gaining an advantage we didn't have before," says Col. John Spiszer, the commander of US forces in the northeastern border areas.
For years, Afghan and Western officials have complained that the lack of coordination with Pakistan was undermining the war effort in Afghanistan. The problem became so grave in US eyes that President Obama appointed veteran diplomat Richard Holbrooke as special representative to both nations. He arrived in Kabul Thursday from Pakistan as part of a regional tour.
---