Mini-surge to test out US strategy in Afghanistan
Some 3,000 US troops recently deployed to insurgent-heavy provinces near Kabul.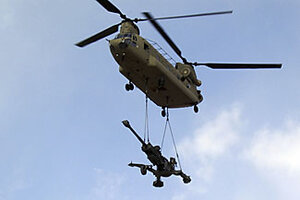 Amber Robinson/ISAF/AP
Maydan Shahr, Afghanistan
The 3,000 new American troops who arrived in recent weeks in Logar and Wardak provinces, both of which border Kabul, face a formidable challenge: establishing control in areas with little government presence and where insurgents operate freely.
In Band-e-chak, for example, a district capital in Wardak, gun-toting Taliban fighters regularly come into town on their motorbikes to do some shopping. They buy their produce and go home, driving past government offices unmolested.
These provinces could be a key testing ground for the Obama administration's Afghan strategy, which may include a surge of thousands of US forces countrywide.
"Policymakers in Washington will be watching the progress there closely," says Habibullah Rafeh, political analyst with the Afghan Academy of Sciences. "If [the US] can turn things around there, they can create the momentum to turn around the whole war."
The strategy in Logar and Wardak will be to push the insurgents out of their strongholds and eliminate their contact with locals, and to emphasize development and reconstruction, says Col. David Haight, commander of the newly arrived troops.
---