Pakistani power struggle flares up
Protesters rallied in several cities after a court banned popular opposition leader Nawaz Sharif from running for office.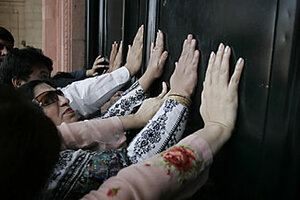 K.M. Chaudary/AP
Lahore, Pakistan; and Delhi
A power struggle in Pakistan that was touched off Wednesday by the sidelining of the country's main opposition leadership shows no sign of ebbing, dealing a blow to US efforts to focus Islamabad on the Taliban threat.
Protests over a court decision that bars popular opposition leader Nawaz Sharif from standing in elections entered their second day in several major cities.
In Lahore, protesters chanted slogans Thursday against President Asif Ali Zardari, accused by the opposition of engineering the court ruling and inflaming the situation by trying to replace the opposition-led provincial government in Lahore. Thirty opposition lawmakers were detained briefly after police barred them from Punjab's provincial assembly building in Lahore – further enraging the nearly 2,000 activists gathered.
Until now, the opposition parties and Washington have given the ruling party led by Mr. Zardari some latitude as the country emerged from nearly a decade of dictatorship. But the latest turn of events threatens to embroil Pakistan in months of turmoil at a time when experts are calling for political engagement in the country's counterinsurgency efforts.
---