Bangladesh: mutiny dealt serious blow to country's security
Prime Minister Hasina revoked an amnesty for rebel soldiers as the Army announced Sunday that it was deploying across the country to apprehend fugitives.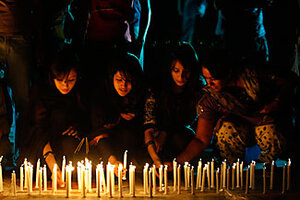 Andrew Biraj/Reuters
They were found lying in ditches by the dozens. Many were bound at the hands and feet. On their uniforms they bore the marks of their crime: the badges and stripes of colonels, majors, and lieutenants of the Bangladesh Rifles (BDR).
Over the weekend, police in Bangladesh discovered 50 bodies in three mass graves at the BDR headquarters in Dhaka, bringing the total death toll of officers killed in last week's mutiny to 63. Among the dead were Maj. Gen. Shakil Ahmed, the head of the Bangladesh Rifles, a paramilitary border security force, and his wife, who lived on the headquarters premises. Four days after the armed uprising, more than 72 officers are still missing. They are feared dead as well.
Reacting to the scale of the tragedy, Prime Minister Sheikh Hasina rescinded the general amnesty she had earlier offered rebellious BDR soldiers, warning that those responsible would be subject to exemplary punishment. Heightening fears of possible clashes, the Army on Sunday announced that it was deploying across the country in an operation to apprehend fugitive BDR soldiers, while police filed a case charging six lower-level BDR personnel with leading 1,000 men in the uprising.
---