Karzai draws criticism for early election call
Moving the presidential vote up to spring from August could undercut opponents, who still have to plan their campaigns.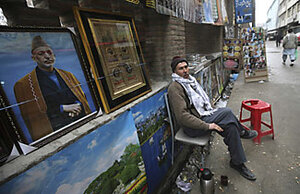 Rafiq Maqbool/AP
President Hamid Karzai's declaration Saturday that Afghan presidential elections should be moved up to April or May has aggravated already tense political divisions in this increasingly unstable country.
The unpopular leader's decree is at odds with the Independent Election Commission (IEC), which has set Aug. 20 as the date for the polls. The United States reiterated its support Saturday for the later date – a preference shared by other candidates, who say they need more time to plan a campaign.
Karzai's presidential mandate legally ends in May, which could leave Afghanistan without a head of state for three months if polls were held in August. The president's supporters say an earlier vote is necessary to avoid such a scenario. Critics say, however, that more than two months are needed to prepare for the elections.
"We are headed for a confrontation," says Haroun Mir, head of the Afghanistan Center for Research and Policy Studies based in Kabul. "This could be the start of a crisis of legitimacy, which would be dangerous in a country mired in instability."
---