Militant attack on cricket team in Pakistan could backfire
If militants are home-grown, domestic ambivalence about vilifying such groups could be diminished.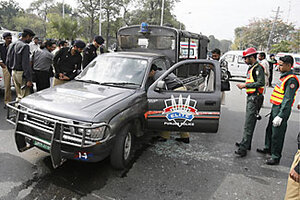 Mohsin Raza/Reuters
New Delhi; and lahore, pakistan
Pakistan's embattled government was dealt a fresh blow with the brazen attack Tuesday on Sri Lanka's visiting cricket team. But the targeting of cricket – sometimes called the country's second religion – could backfire on the militants.
Twelve unidentified gunmen opened fire on the team bus, injuring five Sri Lankan players and killing seven people, including six policemen. The assault took place in Lahore, the scene of a dramatic power struggle last week that saw the ruling party of Pakistani President Ali Asif Zardari remove the main opposition from its seat of power. Critics now say that political infighting distracted the city's security forces at a key moment.
It's not clear yet if the gunmen came from the ranks of home-grown militant outfits. But if they did, the ambivalence in the security forces and among Pakistanis more broadly about vilifying some of these groups – whose targets also include India and poor local governance – could be diminished.
"If [authorities] genuinely investigate it, and they do find evidence that this was the work of internal militant groups, then I'm sure it will help contribute to the people being mobilized against the terrorists and militants," says Lt. Gen. Talat Masood (ret.).
Determining just who was behind the attack will be complicated by the fact that all the gunmen evaded capture. As is often the case when details are lacking, some voices here are already suggesting this could be an attack from India.
---