Attack on Sri Lanka cricket team: a sign that Pakistan is unraveling?
If it is becoming a failed state, Indian officials wonder if they should take a harder – or softer – line with its neighbor.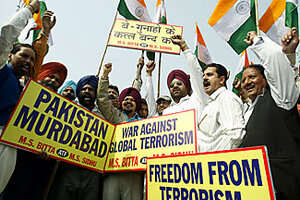 Munish Sharma/Reuters
India's ruling party reacted to the attacks on Sri Lanka's cricket team by suggesting Pakistan was on its way to becoming "the Somalia of South Asia."
The comparison to the failed state is hyperbole at this point. But the comments reflect rising concern here over the combustible political standoff and entrenched Taliban insurgency gripping Pakistan.
The dilemma for Indian policymakers is whether to continue to pressure Pakistan as an untrustworthy adversary, or to approach its historic rival as a failing state in need of more delicate handling.
"We really need to rejigger our Pakistan policy," says Bharat Karnad, a security expert at the Centre for Policy Research in New Delhi. "It basically means we need to tone down the idée fixe that Pakistan is a military threat. It is really not a military threat, but it will become a social threat ... if we let it disintegrate."
Holding Islamabad responsible for events like November's terror attacks on Mumbai (formerly Bombay), he says, is unfruitful because the state "is really not in control." The latest evidence, he says, is the inability of security forces to prevent Tuesday's attack in Lahore.
---