How US 'war on terror' emboldened Sri Lanka's
The Army appears on verge of crushing Tiger rebels.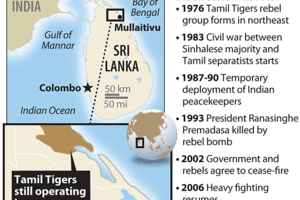 SOURCES: CIA World Factbook, Reuters, BBC, AP/© 2009 MCT
In 1992, Lt. Col. Gotabhaya Rajapaksa retired from the Army after two decades in uniform. A year later, he moved to Los Angeles and began working in IT. In 2001, he heard President Bush declare that "you're either with us or against us" in the global war on terror.
Mr. Rajapaksa didn't need convincing. The decorated officer – today Sri Lanka's defense secretary – had long ago concluded that his own country's fight against extremism, which broke into civil war in 1983, required a military solution by a united front.
"The lesson that I have learned is that peace talks will never go anywhere.... Tell me a place where this has worked," he says.
After a massive buildup of troops and equipment, Sri Lanka appears on the verge of victory against the Liberation Tigers of Tamil Eelam. If successful, It will have succeeded where others in the region, such as India and Pakistan, have failed in putting down an armed rebellion by force.
Behind Sri Lanka's war machine is Chinese military hardware, foreign intelligence sharing, and a focus on military professionalism. "They've insulated the way the Army operates. It's purely military logic," says a Western diplomat in Colombo.
The government has also tried to clamp down on LTTE overseas funding, with limited success. While the United States has frozen two Tamil charities as terrorist fronts, European countries have dragged their feet, say Sri Lankan officials.
---