Pakistan's airwaves: On militant turf, Radio Khyber offers a softer voice
In tribal areas, it provides an alternative to hard-line clerics with a medley of local news, talk shows, and music.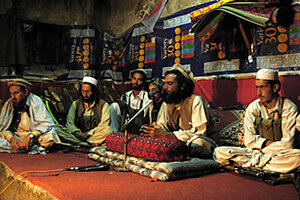 Waheed afridi/ afp/ newscom/ file
Kishwar yanks at her veil, caught in the sound equipment of a cramped radio production studio, and pins it back. "It's hard to be the voice of anything with all this cloth on my face," she jokes, alluding to her station's tag line, "The Voice of Khyber."
Kishwar, who, like others in this story, asked to have her last name withheld for security, is one of 15 reporters for Radio Khyber, a rare nonextremist station broadcasting in the town of Jamrud, in the militant stronghold of Pakistan's northwestern tribal areas. Airwaves in this region are filled with the illegal broadcasts of "FM mullahs" preaching about "holy war" and recruiting fighters.
Radio Khyber, launched in 2006 with government support, provides an alternative to the hard-line clerics with its medley of local news, talk shows, and music. But it treads carefully, trying to avoid backlash from either the militants – who criticize the playing of music – or the Pakistani government, which dislikes its news coverage in this sensitive region.
"Until Radio Khyber started news reporting, the FM mullahs were winning the dial wars," says Aurangzaib Khan, the manager of Media Development at Internews Pakistan in Peshawar, an international nonprofit that trains radio journalists and lobbies for free media.
Radio Khyber broadcasts for three hours each in the morning and evening. When it first started, the government – represented in the Federally Administered Tribal Areas by the FATA Secretariat – mandated that Radio Khyber simply broadcast Pakistani pop songs and use news reports from the state-owned Radio Pakistan.
---