Big win for Pakistan protesters
The government agreed Monday to restore deposed judges. Activists want further reforms.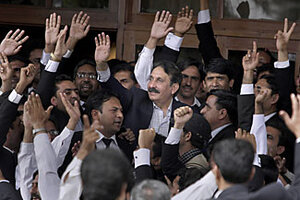 Anjum Naveed/AP
They came with flags, candies, and chants of "Rule of law!" Thousands of jubilant Pakistanis made a pilgrimage to the residence of former Chief Justice Iftikhar Chaudhry early Monday, saying that Pakistan had proved itself worthy of the name of democracy.
A popular movement had forced the government to promise to reinstate Mr. Chaudhry – acceding to a key curb on its power. In the past such action has only happened through military coups.
"We've been waiting for this some 60 years," says Ansa Nadeen, who flew from Karachi to join the protests. "We kept quiet for too long."
While the threat of protests has dissipated and euphoria taken hold, contentious political battles still lie ahead. Activists and opposition members are pressing for further reforms, such as devolving power from the president, and hope that popular input, putting principles over party leaders, and military calm will bolster future decisionmaking.
"This is an extremely important day, but the real task has now started: how to maintain the victory of the people," says Khalid Rahman, head of the Institute for Policy Studies in Islamabad. "If this is the only decision that has taken place and later no other decision is made, I think there will be a lot of problems." The surging popularity of opposition leader Nawaz Sharif gives the ruling Pakistan People's Party an incentive to continue working with the opposition and agreeing to reforms, Mr. Rahman continues. If the PPP drags its feet, that could give Mr. Sharif an avenue to power.
---