Key Afghan insurgents open door to talks
The Haqqani network has agreed to discuss a peace proposal with government-backed mediators.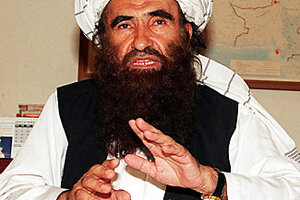 AFP/Newscom/File
As the Obama administration ponders reaching out to moderate Afghan insurgents, Kabul has opened preliminary negotiations with the country's most dangerous rebel faction, the Al Qaeda-linked Haqqani network.
The group is accused of masterminding some of the most brazen attacks here in recent years, and a deal with them will likely be key to ending the war.
"If the Haqqanis can be drawn into the negotiation process," says Kabul-based political analyst Waheed Muzjda, "it would be a serious sign that the insurgents are open to one day making a deal."
The Haqqani network is one of three major insurgent groups here, along with the Taliban and Hizb-i-Islami-Gulbuddin (HIG). Of these, the Haqqanis have orchestrated the majority of the major suicide bombings in Kabul and have significant influence in the southeastern provinces. The group counts many foreign fighters among its ranks and is much closer to Al Qaeda than the other groups, according to US intelligence officials. This influence tends to make the Haqqanis more extremist than other groups.
Preliminary talks between the Afghan government and various insurgent groups have been taking place for months. In September, government officials and a group of former Taliban members met in Mecca. The former Taliban agreed to act as intermediaries between government and the insurgents, and met regularly with government representatives in Afghanistan and in Dubai, the United Arab Emirates.
---