$1,000 for a kebab? Afghan villages fight corruption.
Locals trained by an NGO gather to scrutinize officials' books.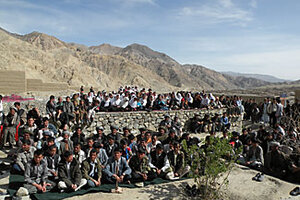 Anand Gopal
In this remote area amid the rough-hewn mountains of northern Afghanistan, a man gingerly steps forward at a village assembly.
"Why did you spend so much money on cement?" he asks village leaders – the first time he has so openly questioned authority.
They check their records and reply: "The cement is high quality, and it was the best deal we could find."
The man sits back down, apparently satisfied.
This bland exchange – one of many at a meeting where local officials must defend their use of public funds – is part of a ground-breaking program to bring accountability to a nation ranked one of five most corrupt by Transparency International, a corruption watchdog. The problem extends from top officials to local village leaders, and it's fueling anger at the government and building support for the insurgency.
Now, villagers trained by an international nonprofit are tackling corruption at the local level through "social audits." They gather to inspect the books of , or elected councils, that oversee many villages and receive funds from the government and NGOs to undertake development projects. In many villages that uncover corruption, residents voted their out in subsequent elections.
"For the first time, we feel like we have some control in our lives," says one villager, Rahimah, who like many Afghans has only one name. "We can finally hold our leaders accountable."
"It used to be that our would get money and we'd have no idea what happened to it," says Begum, another villager here in Kalan Gazar, in northern Baghlan Province. In some areas, money earmarked for a development project had simply vanished.
---