US-Iran thaw could bolster Afghanistan rebuilding efforts
In The Hague this week, Iranian officials offered to cooperate with the US. Iran has pursued an ambitious redevelopment effort in Afghanistan since 2001.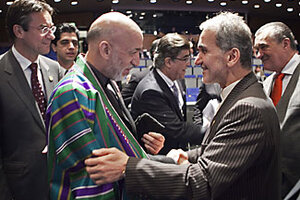 Cynthia Boll/Dutch Ministry of Foreign Affairs/Reuters
In a crowded section near the western edge of the capital sits a sprawling new university compound, a structure of ornate white stone and blue-tiled domes.
As hundreds of students here file in for morning classes, many say they have one country to thank for helping to improve higher learning in this education-starved country: Iran.
The $100 million university is one of Iran's many development projects across Afghanistan – and just the type of contribution Washington wants to bring positive change to this troubled country. 
At an international conference on Afghanistan in The Hague this week, Iranian officials offered to cooperate with the United States on developing and reconstructing Afghanistan. Though deep mistrust remains between the two countries, the move marked a thaw in relations and could facilitate Washington's efforts to turn the situation around here.  
"The conference underlines Iran's willingness to play a cooperative role and can jump-start Obama's policy of getting more support throughout the region," says Marvin Weinbaum, a former State Department analyst on Afghanistan-Pakistan and currently a scholar in residence at the Middle East Institute based in Washington.
---