From Khmer Rouge torturer to born-again Christian
The leader of Cambodia's most notorious prison, now on trial, has admitted guilt and asked for forgiveness in accordance with his new faith.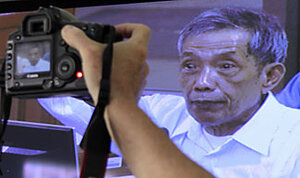 Heng Sinith/AP
Once a devoted Khmer Rouge communist, the regime's former chief executioner traded leftist ideology for Jesus, and now, with his trial four days under way, presents himself as a pious, contrite, and cooperative old man.
"I would like to seek forgiveness from the victims," Kaing Guek Eav, alias "Duch," told judges Monday at the UN-backed Extraordinary Chambers in the Courts of Cambodia (ECCC).
At the second day of his trial March 31, he said: "I would like to emphasize that I am responsible for the crimes committed at S-21 [prison], especially the torture and execution of the people there."
This is the penitent Christian that Cheam Socheong, the director of Phkoam High School where Duch (pronounced "Doik") taught math in the 1990s, remembers well. "Duch often talked of God and the good way," Mr. Cheam said in a recent interview at his school office in Cambodia's remote northwest. "He asked me why I didn't go to church. He tried to convert me."
First with communism, then Christianity, Duch has always embraced and espoused his beliefs with fervor, friends and family say.
The court's psychological exam noted "obsessive" traits in his personality, "both past and present," though it did not link that trait specifically with his faith.
The intensity that once turned Duch into a feared prison chief has now transformed him into an evangelical Christian eager to cooperate with the court and seek forgiveness. Of five former Khmer Rouge cadres now in detention at the ECCC, he is the sole detainee to have cooperated with the investigating judges.
---