As Chinese art market crashes, many artists applaud
Chinese contemporary painters hope the collapse will shake out speculators, leaving true collectors.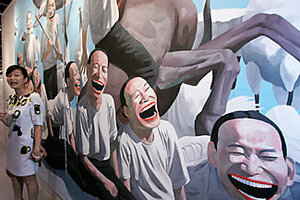 Bobby Yip/Reuters/File
One of the best ways to make a quick buck over the past few years has been to buy contemporary Chinese paintings. The fastest-growing sector of a feverish international art market saw prices leap by multiples of ten or more.
No longer. The global recession is deflating sales. Today, "the bubble is really bursting," says Beijing painter Zhao Gang, as prices tumble by nearly one-third and record-setting Chinese artists watch their works go unsold at auction.
But few people in the art world here are lamenting the end of an overheated era. "Chinese artists were seen as ATMs," says Jerome Sans, director of the nonprofit Ullens Center for Contemporary Art in Beijing. "Maybe now they'll stop creating for the market and create for the mind."
Maybe too, he suggests, as the internationally fueled boom runs out of steam, local artists will turn their attention to local buyers, who are just beginning to build a collectors' market.
Prices for Chinese contemporary art have skyrocketed over the past five years. In 2004, only one of the top 10 best-selling living artists was Chinese, according to the artprice.com website, But by 2007 five of them came from China.
Among them was Yue Minjun, whose paintings of broadly grinning men in a variety of settings have been imitated widely here. "Gweong Gweong," a painting he made in 1993 and sold a year later to a dealer in Hong Kong for $5,000, was worth $636,000 by the time it came up for auction in November 2005.
Last May, it was flipped for $6.9 million.
---