Afghanistan's controversial law emboldens women's rights activists
Hundreds in Kabul staged a rare rally Wednesday, defying counterprotesters' stones and insults.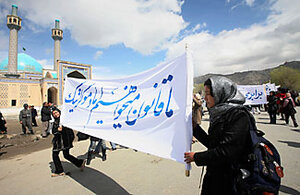 Musadeq Sadeq/AP
As Fatima Fedayee clutched a banner that read "Equality Is Our Right," an angry man charged toward her and knocked her to the ground. As soon as she picked herself up, another man hurled stones at her. Then a group of men surrounded her, screaming unsavory epithets.
But Ms. Fedayee kept holding the banner, chanting "Islam means equality!" She kept up the rallying cry for more than an hour Wednesday, alongside nearly 300 other women, protesting a law that they say would greatly restrict women's freedoms.
These demonstrators belong to a women's movement that has emerged with unusual boldness in recent weeks to fight the law. Unlike other campaigns around gender issues, this marks one of the few times women have openly confronted the conservative attitudes in this country – and the first time in years they have demanded their rights in a public demonstration. Like Fedayee, many have withstood hostile, even violent, opposition – sometimes from other women.
"We've been silent for all of these years, but we can't tolerate this anymore," Fedayee says.
Law would empower husbands
The law that sparked the outrage – which was passed by both houses of parliament and signed late last month by President Hamid Karzai – regulates the actions of women of the Shiite minority, which makes up about 15 percent of the population. Among the bill's many articles, activists point to a few particularly oppressive statutes: that women should get their husband's permission before leaving the house, and husbands have the right to have sex with their wives whenever they wish.
An outpouring of international criticism has pushed President Karzai to shelve the bill for now and pledge to reconsider any portions of the law that contradict the Afghan constitution, which guarantees equal rights for men and women. The measure also stipulates that no law should contradict Islam – a fact some conservatives use to argue that the law in question can be reconciled with the constitution.
---