Wealthy nations move to shore up Pakistan
In Tokyo, nearly 30 countries pledged $5.28 billion to bolster its weak economy and government.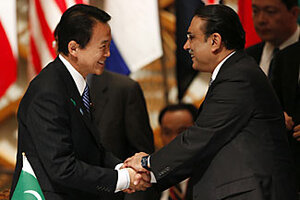 Yuriko Nakao/Reuters
Concerns about the stability of Pakistan are opening up the international community's wallet.
In Tokyo Friday, a group of wealthy nations pledged to give Pakistan $5.28 billion over the next two years to help shore up its slumping economy and fragile civilian government. The US kicked in $1 billion, a downpayment on plans moving through Congress to send $1.5 billion a year in development aid for at least the next five years.
The money has touched off a controversy over how to improve the effectiveness of aid to Pakistan, as well as how much reform to expect from Islamabad in return. Pakistani officials are balking at "micromanagement," but many experts argue passionately for more dialogue on accountability.
"I think the time is passed where we can keep cutting checks to Pakistan without knowing how this money is going to be spent," says Ashley Tellis, a South Asia analyst at the Carnegie Endowment for International Peace.
Between 2002 and 2008, the US poured $11.2 billion into Pakistan – more than $8 billion of it to the military. Some of that money remains poorly accounted for, according to the General Accounting Office and aid experts.
---