Pakistani Taliban advance beyond Swat
They have taken control of Buner next door and made forays into two more districts.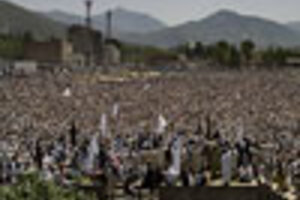 BK Bangash/AP
First they won control of Pakistan's Swat Valley. Then they easily took over Buner District next door. Now the Taliban appear to have set their sights on two more neighboring areas as they continue to drive deeper into Pakistan.
Some analysts say that, for the time being, the Taliban are likely restricted to rural areas in the northwest – it's unlikely, for example, that they could take over the nearest major city, Peshawar, where the provincial government of the North West Frontier Province is based.
Still, the militants appear intent on expanding their influence. And in the NWFP over the past several weeks they have faced little resistance from either the populace or government security forces.
"If they stay in Buner longer they will continue their drive," says analyst Rifaat Hussain, of the Quaid-i-Azam University in Islamabad. "The fact they were able to take over so easily will encourage Taliban from other districts to do the same."
The Taliban progress
In Buner, where the Taliban consolidated their control this week, militants have begun patrolling bazaars, villages, and towns, according to a leading English-language daily newspaper, Dawn. For the past six days, they are reported to have been looting government and NGO offices for supplies and four-wheel-drive vehicles.
---