Sri Lankan civilians trapped by Tamil Tigers 'last stand'
As the fighting has shrunk to a three-square mile strip of rebel-held land, Sri Lanka's military has framed its offensive as the world's 'largest hostage rescue mission.'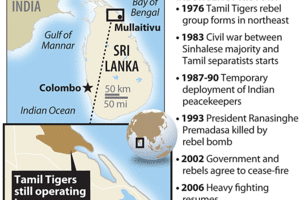 SOURCES: CIA World Factbook, Reuters, BBC, AP/© 2009 MCT
On the far shore of a brackish lagoon, white Brahmin cows stoop to drink. Behind them, over a muddy embankment, palm trees frame a row of abandoned shelters on a sandy beach. Just two weeks ago, this was a Tamil Tiger stronghold.
A few miles south, hundreds of Tamil rebels are making a final, desperate stand in Sri Lanka's 26-year civil war. Held there, as pawns in the military endgame, are tens of thousands of ethnic-Tamil civilians. Short on food and water, and pounded by artillery shells, their plight has triggered international concern but no halt in the fighting.
Instead, a final assault seems imminent. On Apr. 30, one day after rejecting calls by British and French envoys for a cease-fire, President Mahinda Rajapaksa said in a speech that the Liberation Tigers of Tamil Eelam (LTTE) had five or six days left to surrender.
Similar deadlines have come and gone before. But an aid worker in Vavuniya, where refugee camps are overflowing with newcomers from the war zone, says military officials had told her last week to expect another 50,000 arrivals by midweek. That number is at the low end of the UN's estimate of remaining civilians trapped by the two warring sides.
Army commanders leading a tightly scripted media tour of recently captured areas gave a more cautious assessment. Victory would be in "a couple of weeks, at the most," General Jagath Dias told reporters.
World's 'largest hostage rescue mission?'
---