Afghanistan's divided opposition boosts Karzai's election bid
Though unpopular, the president has more national reach than the shrinking pool of contenders.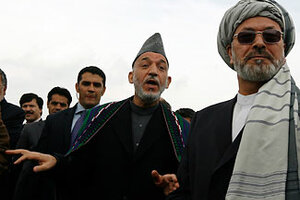 Ahmad Masood/REUTERS
Afghanistan's unpopular President Hamid Karzai just registered Monday for his reelection bid. But already, he looks poised to easily win the August polls, as leading contenders drop out of the race and others fail to form viable opposition tickets.
The shrinking pool of candidates highlights how fractured the opposition remains against a well-advantaged incumbent.
Earlier this week Gul Agha Sherzai, a provincial governor popular among some Pashtuns – Afghanistan's largest ethnic group – announced he would quit the race. Mr. Sherzai has also found favor in Washington for his success as a provincial governor, though his warlord past has drawn criticism. He was seen as the one challenger to Karzai who could have captured part of the key Pashtun tribal vote.
Western and Afghan officials also say that Ali Ahmad Jalali, the former Interior Minister and another leading Karzai opponent, will drop his candidacy.
This leaves a sparse field of contenders for the August elections, with only two candidates left who have a national profile: Abdullah Abdullah, a former member of the anti-Taliban Northern Alliance and onetime foreign minister, who is associated with the Tajik ethnic group; and Ashraf Ghani, a US-based academic and former finance minister under Karzai.
---