Are Pakistani Taliban finding new foothold in south?
Analysts say political leaders could strengthen militants' appeal if they do not manage deep ethnic tensions – which resulted in clashes that killed 30 people last week.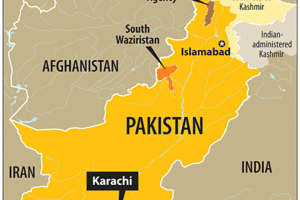 Rich Clabaugh/Staff
Rows of jingle trucks and shanties line either side of the Super Highway as it pushes north from sea-swept Karachi into Pakistan's dusty interior. These are the homes and work vehicles of the city's growing ethnic Pashtun population – and, according to Haider Abbas Rizvi, they form a Taliban haven.
"I cannot dare enter this place. Nobody can, not even the police and the Rangers," says Mr. Rizvi, a member of Parliament with the secular MQM party. "This summer is going to be very hot – I don't know if [the fight] is going to be happening in the North [of Pakistan] or down here."
Though the Taliban operate mainly in Pakistan's northwestern tribal agencies and are battling the military near there, MQM leaders in this southern city are sounding the alarm that Pakistan's financial capital and main port will be the militants' next battleground.
They point to internal police memos and journalist reports that the Taliban are finding new sanctuary for their leadership, raising funds through criminal activities, and – with the influx of Pashtun refugees from Pakistan's war zones – deepening their pool of recruits by tapping into religious seminaries.
Some analysts caution that the MQM is overlaying anti-Taliban rhetoric on a long-running ethnic struggle within the city. Yet the ethnic divides here are cause for concern because they create rallying cries for organized violence, conditions the Taliban could exploit to disrupt this port on the Arabian Sea – and the nation's trade.
---