Sri Lankan 'detention' camps swell with Tamils
Aid workers struggle to help war-weary refugees as concerns grow about conditions in the shelters as well as timetables for resettlement.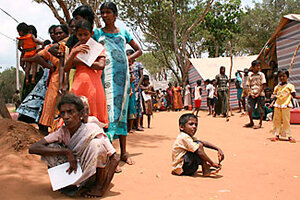 Reuters
A mass outpouring of refugees from a civil war in its final, bloody phase is spurring a huge aid effort for more than 190,000 ethnic Tamils.
By night, bulldozers are clearing more land for vast tented cities being put up during the day on the flatlands of northern Sri Lanka, where the military has corralled the Tamil Tigers along a tiny strip of coastline.
But as authorities brace for more arrivals, aid workers, social activists, and Tamil politicians are voicing mounting concern over conditions in the camps and the government's timetable for returning people to their homes. Critics say that the emergency shelters are becoming open-ended detention centers underwritten by foreign donors.
War-weary refugees are being separated from family members, then denied permission to leave the camps for security reasons. Food parcels have been tossed into hungry crowds, causing at least one deadly stampede. Aid workers warn of poor sanitation, child malnutrition, and inadequate health services.
Last month, a public hospital in Vavuniya, the town with the largest refugee population, admitted 800 patients in a single week, several times its normal intake. All bore the scars of war: gunfire, artillery shells, and land mines.
"There's no food. People can't sleep because of all their trauma," says Veerasingham Anandasangaree, an opposition lawmaker who represents a northern district.
Government and UN officials say that conditions are slowly improving as more foreign aid arrives to supplement local relief efforts. A trickle of vulnerable detainees has been released, as well as UN national staff caught in the fighting, and food distribution has been overhauled. But the huge numbers and their perilous situation are overwhelming.
---