Pakistani refugees escape Army offensive – and Taliban rule
Their fear of the Islamic militants may not translate into support for the government, whose attacks in Swat forced them to flee.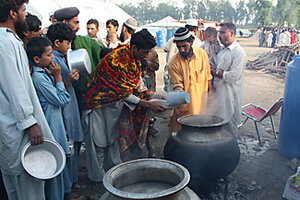 Ben Arnoldy/The Christian Science Monitor
Pakhtoon Kamar writhes on his hospital bed, feeling the wound of his missing brother more than his missing toes. The teenager lost both 10 days ago on a trip to the store, caught in the crossfire between the Taliban and Pakistani security forces now fighting again in Swat Valley.
His father, Shamsul, comforts Pakthoon but doesn't flinch from finishing his family's story.
For him and some of the thousands of others who recently fled here, the misery of the military counteroffensive doesn't overshadow the terrors of life under the Taliban.
As the Taliban moved freely around Matta earlier this year, Mr. Kamar stopped carrying his work badge since he worried that the Taliban would harass any security forces, even private guards like himself at the local sugar mill.
But they found out anyway, and in February they visited his sister's home and abducted his nephew. The next day, they came back and killed her and her daughter. The thugs ultimately freed the nephew after they took the family's car and shot dead the grandmother who had gone to his captors to plead for the boy.
"Taliban means students, but they are not students of Islam," says Kamar. "They are all criminals, and robbers, and ransom takers."
A handful of other fleeing Swat echo the same impression of Taliban rule: It proved to be more criminal than righteous. Whether that represents an opening for the government's battle to win hearts and minds is still uncertain – especially as Swat refugees suffer under the military's counteroffensive.
"This is a sensitive point for the Army, that it doesn't want to get on the wrong side of the population. And unfortunately this is the price that sometimes you have to pay" when force is used against insurgents, says Gen. (ret.) Talat Masood, a security analyst.
In one week, 360,000 refugees
---