US fights Taliban on another front: public relations
As Afghan insurgents exploit popular anger at civilian deaths, the US is hitting back with its own message.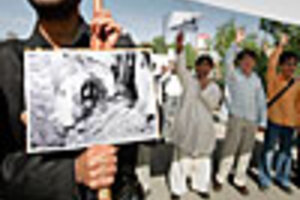 Musadeq Sadeq/AP
More than a week has passed since a United States bombardment killed civilians in western Afghanistan, but the battle between coalition forces and the Taliban has only intensified on another front: public relations.
Civilian deaths caused by US, NATO, and Afghan operations – which, according to the United Nations, topped 800 last year – have long provoked public fury that the Taliban can exploit. But in response, the US has also begun to control the message, often by providing a counternarrative or admitting responsibility.
Last Monday's controversial airstrike in Farah Province killed some 140 villagers, according to Afghan officials. If correct, that would constitute the largest case of civilian deaths since 2001. The attack provoked outbursts of street violence and chants of anti-American slogans.
But the US countered that a "number" of people had died in the engagement – and it blamed the Taliban for using people as human shields.
The controversy then worsened when it emerged over the weekend that chemical weapons may have been used in the clash. The US military rejected that claim and went on the offensive Monday, when Col. Greg Julian, the top spokesman in Afghanistan, alleged that Taliban militants have employed white phosphorus – a highly flammable material that causes severe burns – at least four times in Afghanistan over the past two years.
---