Pakistan: Pashtun hospitality for 19 adults, 25 children, and four camels
Why Pakistanis open their homes to refugees from the fighting in Swat Valley and Buner.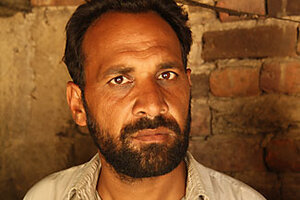 Ben Arnoldy/The Christian Science Monitor
Nightfall was closing fast and Hussein Gohar's clan of 19 adults, 25 children, 4 camels, and 4 buffaloes felt every inch of the 37 miles they had just walked.
They had escaped the fighting between the Pakistani Army and Taliban forces in the hills of Buner, but as Mr. Gohar explains now, they were just following a road: "We had no destination."
That's when Zarnosh Khan and Sher Wali Khan – two wheat farmers in the valley city of Swabi – spotted the group two weeks ago.
"We didn't know them [but] it was evening and the kids were with them. So we thought, 'Where will these people go? Let's give them shelter,' " says Zarnosh. Added Sher Wali: "If we were put in a situation like this, then we would also expect help."
Neighbors brought portable fans from the mosque and food, utensils, cots, and carpets from their homes. They set up the Gohar clan in the hujra, the Pashtun equivalent of a neighborhood community center.
Strangers are opening doors to strangers all across the Pakistani communities that lie in walking distance from Swat and Buner, easing the burden on the crowded official refugee camps. Residents say their hospitality traces back to an ancient Islamic practice known as muakhat, as well as pashtunwali, the ethnic code of behavior that in different circumstances has led some Pashtuns to shelter fleeing Al Qaeda and Taliban fighters.
Culture of hospitality
---