Sri Lanka: Can Tamil Tigers go on without their leader?
The military said it shot dead Vellipulai Prabhakaran Monday, a day after the rebels admitted defeat in their 26-year war.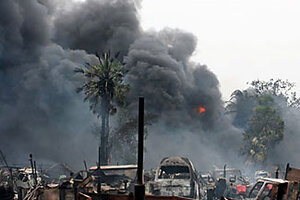 Sri Lankan Government/Reuters
Velupillai Prabhakaran, the founder and chief of the Liberation Tigers of Tamil Eelam (LTTE) was reportedly shot dead Monday by the Sri Lankan army, possibly bringing a final blow to the rebel group just one day after conceding defeat in one of Asia's longest-running wars.
For decades the charismatic leader played an instrumental role in demanding a separate homeland for the island's ethnic Tamil minority and in building up the LTTE's military capabilities.
"[Prabhakaran] was the LTTE's supreme leader, its god, its icon. Minus him, the LTTE will never be its old self," says Narayan Swamy, the New Delhi-based author of a biography of the rebel leader, "Inside an Elusive Mind."
Prabhakaran is believed to have been killed while escaping the war zone in the northeast of the island in an ambulance. His body has yet to be identified. Two of his deputies – LTTE's intelligence wing leader Pottu Amman and Sea Tiger wing leader Soosai – and his eldest son, Charles Anthony, were also killed, according to the military. The claims cannot be independently verified.
A uniquely fierce fighting force
Prabhakaran founded the LTTE in the 1970s in response to discrimination against Tamils by the island's majority Sinhalese population.
---