Some Tamils wary of Sri Lankan leader's outreach
The president promised the ethnic minority 'equal rights' during a victory speech Tuesday.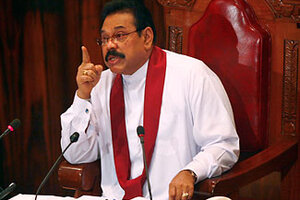 Buddhika Weerasinghe/Reuters
Mariasoosai Sakkariyas was glued to his television Tuesday as Sri Lankan President Mahinda Rajapaksa reached out to Tamils during a speech marking the end of a 26-year war against Tamil separatists.
"Protecting the Tamil-speaking people of this country is my responsibility," said Mr. Rajapaksa, who switched briefly to the Tamil language during his address to Parliament. "That is my duty. All the people of this country should live in safety without fear and suspicion. All should live with equal rights. That is my aim. Let us all get together and build up this nation."
But Mr. Sakkariyas wasn't impressed. He and his family fled Sri Lanka 29 years ago in a flimsy boat across choppy waters to Tamil Nadu state in southeastern India. He longs for the day he can return to his homeland.
"I will only return if there is evidence that all Tamils displaced by the recent fighting are rehabilitated, and are given a free, democratic space to exist," he says. "I don't want to return to a forced democracy where Tamils have no voice."
Sakkariyas's skepticism hints at the uphill battle Sri Lanka faces in achieving political reconciliation now that the conventional phase of the war between the military and Tamil rebels has ended.
The Liberation Tigers of Tamil Eelam (LTTE) had fought for a separate homeland for the island's Tamil ethnic minorities.
---