Pakistan's Taliban rising? Ask the women.
In a sign of growing militancy, threats against females are swelling in cosmopolitan Karachi.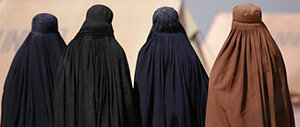 Ali Imam/REUTERS
Noor, a college student, has sworn off wearing jeans. A week ago, while she and her friends were browsing at a boutique on Zamzama Boulevard, Karachi's elite shopping district, two bearded men entered the store. "They told us to have shame and only leave the house with our heads covered," she says. "Before we could say anything, they added that no one would be able to keep us safe if we didn't obey."
Like Noor, many young women in Karachi are starting to dress more conservatively. In the past month, they have been approached by men and told to cover themselves from head to toe or stay off the streets. City officials, who have been raising alarms about the "Talibanization" of Karachi for almost a year, connect the increased harassment of women with the rise of militancy.
The warnings have caused a panic among upper- and middle-class women who have long enjoyed the liberal environment of Pakistan's most cosmopolitan city, where the fashion industry is thriving, female employment is on the rise, and the literacy rate of 65 percent far exceeds the national average of 46 percent.
While no physical attacks have been reported, some women have been threatened at gunpoint. Others, like prominent activist Attiya Dawood, have had eggs thrown at them while walking through residential parks.
Female students have also been targeted. Private, coed institutions have reportedly received letters signed by the Taliban warning them to close down or segregate their students, or face the consequences, which might include the kidnapping of students. When approached, school administration officials refuse to discuss the situation, with some arguing that it is better for their students' safety to be kept out of the media.
---