How big a threat is North Korea?
Q&A: Kim Jong Il's drive to make his nation a nuclear power and how that threatens Asian neighbors.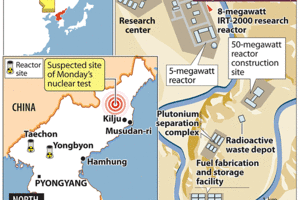 AFP
North Korea has raised the stakes on the Korean peninsula by conducting an underground nuclear weapon test Monday and subsequently test-firing half a dozen short-range missiles. The rapid sequence of events is creating a new sense of crisis in Asia and fresh concerns about the proliferation of nuclear weapons technology.
North Korea has been reprocessing spent fuel rods to produce weapons-grade plutonium at its central nuclear complex at Yongbyon since the 1980s. North Korea now is believed to have enough reporcessed plutonium for at least half a dozen nuclear warheads. Although no one knows for sure how many warheads the regime has fabricated or even where they are, North Korea has now detonated two of them. The first test, in October 2006, measured less than one kiloton, a weak blast likely due to problems with the design or materiel.
The second device was more powerful than the first, estimated at between 1.5 and 4 kilotons. That's still not as powerful as the 15-20 kiloton bombs dropped on Hiroshima and Nagasaki in August 1945, as initially claimed in a Russian news report about Pyongyang's latest test. The speed with which North Korea exploded the second nuclear device after vowing to "bolster" its nuclear deterrent suggests that it has more bombs ready for testing.
North Korea is believed to be working to develop a warhead small enough to fit on the tip of a long-range missile. Some experts say that North Korea has already created nuclear warheads for medium-range Nodong missiles that could strike South Korea and Japan, and has stockpiles of medium- and short-range missiles.
---