Afghans fight flow of drugs and guns fueling Taliban insurgency
But only 200 officers in the south have been trained so far in a US-led program to stem trafficking in and out of Pakistan.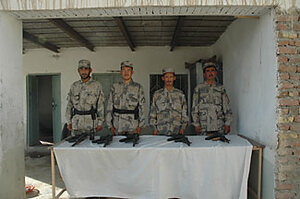 PJ Tobia
In Southern Afghanistan, long ground zero in the battle against the Taliban, Western forces are adjusting their tactics by turning fresh attention to the region's border with Pakistan.
Every day, more than 25,000 people cross an 800-mile boundary skirting Kandahar, Helmand, Nimruz, and Zabul Provinces. Some of these commuters feed the insurgency by smuggling weapons and Taliban fighters into Afghanistan, or by bringing out drugs that fund the rebels' activities.
Now, the United States is trying to build up the region's border police responsible for stopping the trafficking – a force still in its professional infancy.
So far, only a fraction of Afghan Border Police (ABP) officers here have been formally trained, with many more units set to complete the program in the coming months.
The American commanders overseeing the program acknowledge that corrupt and unprofessional behavior among border guards in the south is widespread, but insist that with more resources, training, and time, things will improve.
Last month, 200 ABP officers graduated from the six-week training program – the second group in the south to complete this training, out of a total of about 3,200 ABP officers.
A US Army spokesman says that they hope to bring the number of ABP on the southern border to just over 4,400 men.
Keeping the bombs out
Though the agency has a long way to go before reaching that goal – and becoming corruption-free – the training has started to yield results.
The first group to graduate from the program recently stopped two trucks attempting to cross into Afghanistan that were loaded with detonation wires and blasting caps, two main ingredients in the improvised explosive devices (IEDs) that insurgents commonly use to target Western forces.
---