Obama expected to assure South Korea of US protection from the North
South Korean President Lee Myung Bak arrives in Washington today seeking a guarantee of American nuclear defense from possible North Korean aggression.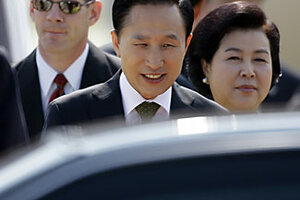 Alex Brandon/AP
South Korean President Lee Myung Bak expects President Obama to give a written assurance of the continuity of the US nuclear umbrella over northeast Asia when they meet Tuesday at the White House.
South Korean sources say Mr. Lee has been pressing hard for this assurance of protection in the face of escalating North Korean threats – and reported signs of North Korean preparations for a third underground nuclear test.
Lee, arriving in Washington on Monday, is expected to place the need for a guarantee of American nuclear defense of the region at the top of an agenda as he meets with Secretary of State Hillary Rodham Clinton and Defense Secretary Robert Gates before seeing Mr. Obama.
South Korea seeking commitment
US and South Korean officials are reported to have already worked out the wording of what is expected to be a joint statement by the two presidents in which they stress the North Korean threat and US capability of deterring nuclear weapons in a showdown.
The statement will not use the term "nuclear umbrella," according to South Korean sources, but will refer to the need for continued "nuclear deterrence." That term, besides covering US nuclear strength, could also include the capability of US destroyers equipped with Aegis-class countermissile systems to shoot down missiles tipped with weapons of mass destruction, whether nuclear, biological, or chemical.
---