Pakistan's offensive opens new forum for militants: refugee camps
Religious charities with extremist ties or sympathies are winning favor among displaced people for their speedy aid work.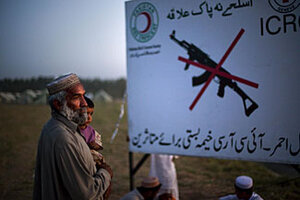 Emilio Morenatti/AP
Clearing out Islamic hard-liners is tough enough on the battlefield. Yet even as Pakistan's Army wraps up operations to clear the Taliban from Swat Valley, religious groups with militant ties or sympathies have set up shop among the war's refugees – and are winning popular support with their truckloads of aid.
Among the organizations providing relief is the Falah-e-Insaniyat Foundation (FIF), the charity wing of Lashkar-e-Taiba, the banned militant group blamed for last November's Mumbai (Bombay) attacks.
The militants' focus on aid efforts has raised concerns among some analysts that such groups may find recruits or sympathizers among the 2 million people displaced by the military's offensive – the majority of whom live outside government-run camps.
"No doubt, they are doing a good job, but their agenda is something else," says retired Brig. Gen. Mahmood Shah, a retired security analyst based in Peshawar. "They might create more support for the Taliban in the IDP [internally displaced person] camps," he argues.
Another concern is that "the organizations have a large number of Taliban sympathizers, and the militants might use the camps as their hiding places with their support," Mr. Shah continues, suggesting that such groups be banned from working there. Some hand out pamphlets along with their relief supplies.
---