Why Afghanistan might gain a CEO
As race for presidency nears, a new role is eyed for a former US ambassador Zalmay Khalilzad: Help Kabul work with the outside world.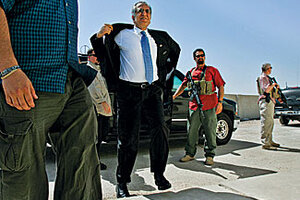 Jacob Silberberg/AP/File
Afghan voter Bakhtiar Najman has some 40 other options this August besides President Hamid Karzai, whose leadership he describes as "bad." The trouble is, the others strike him as worse.
"So I will vote for bad," says Mr. Najman, a law student at Kabul University.
Mr. Karzai's popularity has slipped among Afghans and in Washington. Yet he enters the presidential race in a strong position, having sidelined and co-opted his strongest opponents.
Analysts and opposition figures blame the political paradox on the centralized nature of the government and the concentration of power in the presidency. And with elections fast approaching, proposed reforms are buzzing around Kabul, including the creation of a prime ministerial post. Perhaps most intriguing of all the possible solutions to decentralize power are the reports that former US ambassador Zalmay Khalilzad could step in as the country's "chief executive officer."
The CEO idea appears to hold appeal among frustrated Afghans, while the position's lack of definition and constitutional legitimacy worries experts.
"The office of president is … a 48-hour job given a 24-hour time frame," says William Maley, an Afghanistan expert at Aus­tralian National Uni­ver­sity. "Some­thing to relieve the burdens of the office is vital. On the other hand, simply going down the path of having a CEO as an agent of the president, there's no foundation for institutionalizing the office."
---