UN chief faces steep challenge in Burma
Ban Ki-moon arrived in Burma (Myanmar) Friday in a risky bid to break the political stalemate. He will press for the release of political prisoners, including opposition leader Aung San Suu Kyi.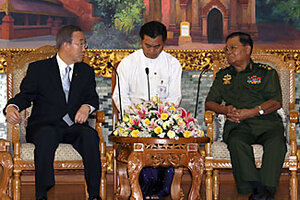 Louis Charbonneau/Reuters
UN Secretary-General Ban Ki-moon arrived Friday in military-ruled Burma (Myanmar) on a mission to unlock a political stalemate that has resisted past diplomatic solutions.
Chief among his demands is the release of more than 2,000 political prisoners held in Burma, including opposition leader Aung San Suu Kyi. Her trial was due to resume Friday, but a judge postponed the hearing until July 10. She is accused of breaking the terms of her house arrest by admitting an uninvited American visitor, who has also gone on trial.
In addition, Mr. Ban wants to discuss multiparty elections slated to be held next year. The junta has called the elections the final stage of a road map to democracy, but exiled prodemocracy groups and Western governments have described the process as a sham that will entrench the dictatorship.
On Friday, Ban met with Army General Than Shwe, the junta chief, in the capital, Naypyidaw. He is expected to meet with opposition groups and civil society leaders during his two-day visit, the Associated Press reported. But it isn't clear if he will be allowed to meet Ms. Suu Kyi before he leaves Saturday.
A difficult task for Ban
Previous UN envoys to Burma have pushed unsuccessfully for dialogue between the current regime, which seized power in 1988, and Suu Kyi, whose political party won the last elections in 1990. They were later annulled as the military clung to power.
---