In Afghanistan surge, soldiers negotiate complex web of local loyalties
As forces of the 10th Mountain Division have poured into Wardak Province to combat the Taliban, they've also had to battle a cool reception.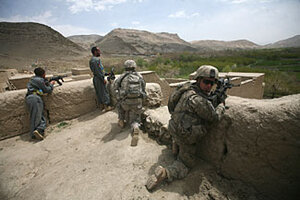 Rafiq Maqbool/AP/FILE
Tangi Valley, Afghanistan
Part one of a two-part series.
When the soldiers of the 10th Mountain Division penetrated the insurgent-ridden Tangi Valley in the heart of Wardak Province, they braved rockets and roadside bombs. They succeeded in erecting a small outpost overlooking the lush, fertile dale in what is one of the most dangerous areas in the province.
Then they set about their main task: winning over the locals. They called a shura, or council, with the local elders here, to introduce themselves and take requests from the villagers.
"But to be honest, they didn't want us here," recalls 1st Lt. Christopher Wallgren, who commands the company of soldiers stationed in the Tangi, in eastern Afghanistan. "They all just asked us to leave. They didn't want us to interfere with their lives."
As thousands of US soldiers pour into Afghanistan this summer and push into uncharted territories, such an environment of mistrust will be one of the many challenges they will face in attempting to secure the country.
Early this year, nearly 1,500 troops landed in Wardak, which neighbors Kabul Province to the south, in a move that prefigured the larger influx this summer. Officials in Washington are hoping that the troop increase can reverse the growing insurgency. Adm. Michael Mullen, chairman of the Joint Chiefs of Staff, recently told reporters that the military buildup was "absolutely necessary" and that the new soldiers will have to force a dramatic turnaround in the security situation over the next 12 to 18 months.
---