New UN report takes firm stand on women's rights in Afghanistan
The 'Silence is Violence' report documents the failure of state institutions to protect women from increasing violence in public spaces.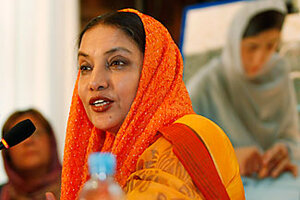 Tim Wimborne/Reuters
Widespread violence against women in Afghanistan is being ignored in a culture of impunity that neither challenges nor condemns this violence, says the United Nations in a new report calling for an end to the prevailing abuse.
Wednesday's report, titled "Silence is Violence," documents the increasingly insecure environment for women in public spaces and the failure of state institutions to deal with it.
Despite claims to the contrary, say advocates, women's rights have been viewed as a luxury by an international community reluctant to question those in power for fear of upsetting Afghanistan's fragile coalition government and delaying stability. But this document, which was co-written by the UN High Commissioner on Human Rights (UNHCR) and the UN's Assistance Mission in Afghanistan (UNAMA), treads new ground by directly confronting the issue.
The argument that it's more important to "have security rather than human rights ... is absolutely the wrong concept, since you need human rights for sustainable peace," says Dr. Sima Samar, the chairperson of the Afghan Independent Human Rights Commission, explaining that the denial of women's rights is usually on the grounds of culture and tradition.
Perpetrators from all walks of life, says report
The report documents violence that inhibits participation of women in public life, identifying perpetrators as antigovernment elements, local traditional and religious power holders, women's own families and communities and, in some instances, government authorities. Sexual violence against women was found to be perpetrated by close family members, staff of prisons and rehabilitation centers, military commanders, and members of illegal armed groups and criminal gangs.
---