UN worker's killing underscores Pakistani refugees' dilemma
Some displaced people are eager to return to Swat – as the government is urging – but ongoing militant attacks have given others pause.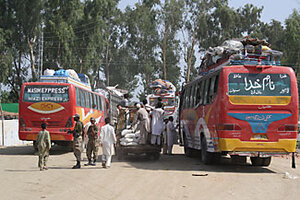 Ben Arnoldy/The Christian Science Monitor
Peshawar and Mardan, Pakistan
For the millions of displaced Pakistanis trying to gauge whether to head home, the messages Thursday were deeply mixed.
In the morning, unknown assailants murdered a United Nations employee and a guard at a refugee camp in Peshawar. But at the same time, dozens of buses packed with refugees and loaded up with suitcases, electric fans, and government rations of flour and sugar left from another camp an hour away in Mardan. The passengers were not dissuaded by a nearby bomb blast the day before at a police checkpoint.
For the more than 2 million people displaced from northwestern Swat and Buner districts, pressure is coming at them from all sides. Government officials are urging many to return home since the military ended its three-month-long offensive against the Taliban in the area, and the scorching sun radiates the same message day in and day out to those stuck in tents. But suspected Taliban militants appear to be sending opposite signals with guns and bombs.
"This [violence] might be an attempt to frighten the people from returning to their respective districts," says Manzir Javed, administrator for the Sheikh Shahzad camp in Mardan. "But I don't think people are so worried about it."
More than 2,100 of the camp's 9,000 people have already left voluntarily over the past three days, he says. But some of those remaining appear deeply conflicted about whether it's safe or not.
---
Follow Stories Like This
Get the Monitor stories you care about delivered to your inbox.