Thailand cracks down on Web users for royal 'slurs'
Webmasters face criminal charges for comments posted on their websites deemed offensive to the royal family.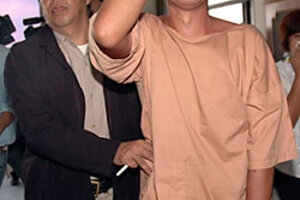 Reuters
Using a combination of high-tech online sleuthing and a century-old royal defamation law, Thai authorities are tightening the screws on free speech here during a sensitive time for its influential monarchy.
Caught in the middle are Thailand's webmasters, who face criminal charges over some of the impassioned comments posted on their websites. Police have accused webmasters of breaking a computer-crime law that puts the onus on them to delete uploaded data that could threaten national security. Several thousand Web pages have been blocked for their royal content.
For those caught posting comments or images deemed offensive to the royal family, the consequences are severe. In April, Suwicha Thakhor, an engineer and political activist, was sentenced to 10 years in jail for uploading antiroyal videos on YouTube. Dozens of other Internet users have been arrested, too.
Mr. Suwicha was found guilty under Thailand's law against lèse-majesté that makes it a crime to defame royalty. It applies to any kind of speech or writings, and its use has skyrocketed in recent years during a protracted political crisis that has lapped at the palace doors.
King Bhumibol Adulyadej, the world's longest-reigning monarch (six decades and counting), is widely revered in Thailand for his moral guidance and for steering the country through previous political impasses. But his age and fading health have raised deep concerns for stability under his designated successor, Crown Prince Maha Vajiralongkorn, who lacks his father's stature.
---