Afghan, Pakistani conflicts spilling into Central Asian states?
Tajikistan blames recent attacks at home on fighters fleeing anti-Taliban offensives. Security was the topic at a regional summit in Dushanbe Thursday.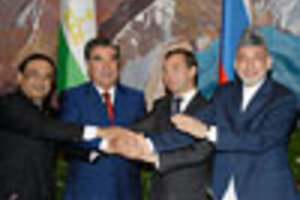 Vladimir Rodionov/ Kremlin/ RIA Novosti/ Reuters
A spate of militant clashes in Tajikistan may indicate that the conflicts in Afghanistan and Pakistan are spilling beyond their borders – a top concern for neighboring Central Asian nations and Russia.
The rise in violence comes as Pakistan wraps up an assault on militants in the north and Western forces intensify a campaign against insurgents in Afghanistan ahead of an Aug. 20 election. The offensives may be pushing foreigners fighting in either country to flee the conflict and return home.
"The situation at the Afghan border may deteriorate ahead of elections," Interior Minister Abdurakhim Qahorov warned last week. "Different criminal groups may try to seek temporary refuge in neighboring countries, including ours."
The issue of regional security was raised at a Thursday summit in Dushanbe with the presidents of Afghanistan, Pakistan, Tajikistan, and Russia.
"[Terrorism] threatens my brother's country. It threatens my country and our neighborhood," Pakistani President Asif Ali Zardari said Wednesday in Dushanbe.
Militants linked to Pakistan, Afghanistan
Tajikistan, which shares a 750-mile border with Afghanistan, sits on the front line of spillover effects.
---