In Afghanistan, Taliban kills more civilians than US
According to a new UN report, the number of civilians killed by both sides in the conflict has risen nearly 50 percent since 2007.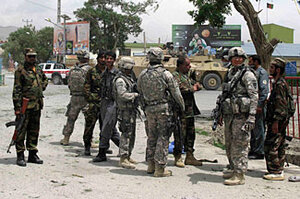 Reuters
Civilian deaths in the Afghanistan conflict surged 24 percent in the first half of 2009, according to a new report from the United Nations. Anger over the misuse of force has become a top issue among Afghans, prompting leaders on both sides recently to issue directives to their fighters to minimize civilian casualties.
The UN report is a bad news, good news document for the US and its Afghan allies. The 21-page report (PDF), issued July 31, found that insurgents killed almost twice as many civilians in the first six months of the year as the coalition did (595 deaths against 309). The UN said it was a "significant shift" from the first half of 2007, when insurgent groups killed 298 civilians and US and allied forces killed 265. In the first half of 2008 the split was 495 to 276.
Nevertheless, the absolute number of civilians killed by both sides continued to rise.
The new commander of US forces in Afghanistan, Stanley McChrystal, issued a tactical directive earlier this month to curb the use of air strikes to "very limited" scenarios. And a new Taliban "code of conduct" manual purportedly from Mullah Omar tells insurgents to take "the utmost effort" to avoid civilian casualties.
It remains to be seen whether General McChrystal can bring down civilian casualties in the context of a US troop surge and intensification of the conflict. Some analysts say it's an issue of much greater importance to the coalition than to the Taliban.
---