'Stormy' start to Fatah's historic summit
Some of the 2,200 delegates expressed outrage at Palestinian President Mahmoud Abbas's account of the party's past 20 years.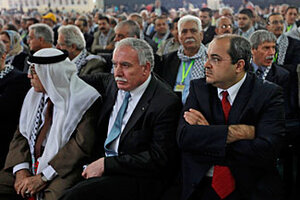 Tara Todras-Whitehill/AP
The first Fatah conference in two decades was off on Wednesday to what a senior Palestinian official acknowledged was a "stormy" start as some 2,200 party delegates wrangled over a variety of issues and showed reluctance to accept top-down decisions from the party's elite.
Foremost among these was a directive to accept the 51-page text of Palestinian President Mahmoud Abbas's speech – which he took two hours to deliver at the opening of the conference on Tuesday – as the report of record explaining Fatah's progress to its Central Committee since they last met in 1989.
That move outraged members who said Mr. Abbas's speech left out too many key elements – including explicit mention of both Palestinian uprisings, or  – and in any case did not take the place of a proper progress report.
"We had chaos in the discussion over this," says Sirhan Dweikat, who is Fatah's director of recruitment across the Palestinian territories. "We needed to talk about the positive things and the negative things. We refused to have the president's speech to be used as a so-called document, because he left too much out." Mr. Dweikat stood in a sliver of shade off Bethlehem's Nativity Square as the sea of Fatah delegates made their way up the hill from the conference center – closed to press except for a few key events – to lunch in nearby hotels.
---