Cambodian conviction signals crackdown on dissent
A court found opposition member Mu Sochua guilty of defaming the prime minister. Observers say it fits a pattern of assault on political criticism and free speech in the young democracy.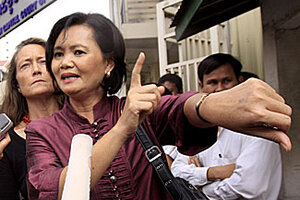 Heng Sinith/AP
A Cambodian court found a prominent politician guilty of defaming the country's prime minister Thursday in what analysts call a setback on Cambodia's shaky path to democracy. The conviction of Mu Sochua, an outspoken member of the opposition, amplifies a pattern of assault on political dissent and free speech, say the analysts.
"This is a reversal of hard-won freedoms, to have a member of Parliament threatened and sued," says Sara Colm, a researcher for Human Rights Watch based in Phnom Penh, the capital.
Ms. Sochua's ordeal, which has polarized Cambodia's political landscape for months, began with an act of defiance. In April, during a public address in Kampot Province, Prime Minister Hun Sen derided the province's parliamentarian by calling her a   – literally "a strong leg" in English, a term considered highly offensive to women.
Mr. Sen did not mention Sochua by name, but Kampot is her province, making the inference clear. Sochua says it was retaliation for her public criticism of Sen's policies.
Sochua did the unthinkable in a country where Sen rules virtually unchallenged: she sued him for defamation. But her case was thrown out by the courts, and Sen countersued her for defaming him. His case the court accepted.
It soon became a David-versus-Goliath showdown. At stake is the essence of Cambodia's experiment in democracy, particularly the rights of elected officials to confront the ruling party, Sochua says.
---
Follow Stories Like This
Get the Monitor stories you care about delivered to your inbox.