Killing of Pakistan Taliban chief could touch off power struggle
Without the charismatic Baitullah Mehsud, feuding Islamist militants could splinter.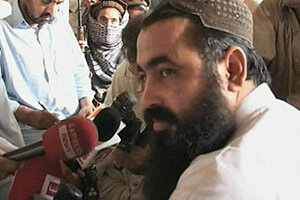 APTN/AP/FILE
New Delhi; and Islamabad, Pakistan
The probable killing of a top Taliban leader in Pakistan may open up a power struggle within the fractious insurgency that Islamabad could use to divide and conquer.
Baitullah Mehsud unified more than a dozen militant factions two years ago, putting them under his umbrella as the Tehrik-e-Taliban Pakistan (TTP). But as recently as late June, Mr. Mehsud faced a serious revolt within his own Mehsud tribe – one he put down by assassinating its leader.
Now, indications are that Mehsud himself has been assassinated – done in by a US drone Wednesday. The US has not confirmed the killing yet, but Afghan Foreign Minister Shah Mehmood Qureshi told BBC radio on Friday that it was "pretty certain" that Mehsud is dead.
With Mehsud out of the picture, analysts say it's possible the internal Taliban rivalries he managed to suppress will resurface.
"I don't think the TTP movement would remain intact" without Mehsud, says Roshtam Shah Mohmand, a former chief secretary for the Northwest Frontier Province. "I think no other leader would have the same charisma, appeal, popularity, and stature."
Insurgent leaders are reportedly meeting today to decide on a successor. How smoothly that process goes will offer clues about the real remaining strength of the movement.
"If it's as big an organization and powerful an outfit as everyone thinks it to be, I'm sure they must have [prepared for] these contingencies," says Rifaat Hussain, a security expert at Quaid-i-Azam University in Islamabad. That said, he agrees that the TTP may experience "centrifugal tendencies," and the government could exploit any fissures that emerge.
---