Drone probably killed Taliban leader. Is Pakistan safer?
The probable death of Baitullah Mehsud, a militant leader with thousands of followers, could reduce terrorist attacks in Pakistan. The impact on the war in Afghanistan is less certain.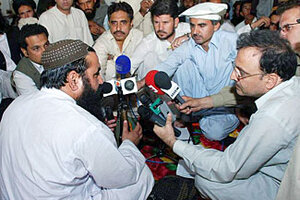 AP/File
New Delhi; and Islamabad, Pakistan
A US drone strike Wednesday probably killed Baitullah Mehsud, a senior Pakistan-based Taliban leader who organized dozens of terror attacks in Afghanistan and Pakistan. His death may substantially weaken the Taliban insurgency within Pakistan, a country that some US leaders feared was careening toward collapse just a few months ago.
The US had a $5 million bounty on Mr. Mehsud, who headed the Tehrik-e-Taliban Pakistan (TTP). The group has carried out dozens of suicide attacks in Pakistan and Afghanistan. Pakistan alleged he organized the assassination of former Prime Minister Benazir Bhutto, though that was one charge he consistently denied.
Pakistan's Foreign Minister Shah Mahmood Qureshi said his government had evidence that Mehsud is dead. The Associated Press quoted a Taliban commander, Kafayat Ullah, as confirming his death. US officials said reports of his death were probably accurate.
Mehsud grouped together more than a dozen militant factions in 2007 stretching across six of seven tribal agencies in Pakistan's northwest. Among his local fighters are a contingent of Al Qaeda operatives and militant Uzbeks. By the time of his death, one Pakistani intelligence agent estimates he'd stitched together a militant army of more than 10,000.
---